Tomato
At stores, you will find it in the vegetable section, although botanists refer to it as a fruit, or more precisely a berry. Depending on the variety, tomatoes vary in size, shape and also in colour. They can be juicy or with a firm flesh. Aside from the traditional red, there are yellow, orange, green and even chocolate and black tomatoes!
The tomato is one of the most popular domestic vegetables. It belongs to the same family as aubergines, bell peppers and potatoes.
The tomatoes most likely came to Europe from Mexico. They have been conquering the world vegetable market for several hundred years. Interestingly, their Polish name comes from the Italian pomodoro, which in turn was formed by combining two words, pomo d'oro, which literally means 'apple of gold'.
SPECIES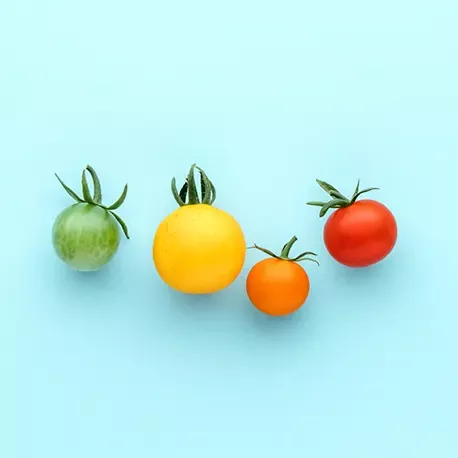 e.g. cherry tomatoes, among which we can distinguish those with a spherical shape, more elongated, thinner or thicker skin. Their colour can be either red, yellow, sometimes pink or orange. They are a perfect match for vegetable salads, appetizers or as a snack for children with their lunch. They have a mild taste and are convenient to pack up and take with you.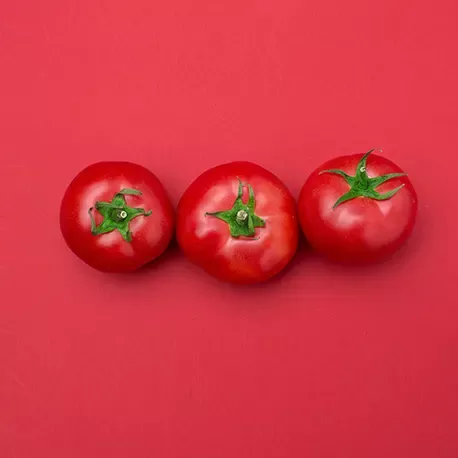 e.g. oblong ones, often grown directly in the ground. They have a sweet taste, few seeds and firm flesh. These varieties are the best choice for preserves - sauces, ketchups, pastes, as well as for drying or pickling. Cooked with other vegetables, they will produce a nutritious, thick, aromatic dish.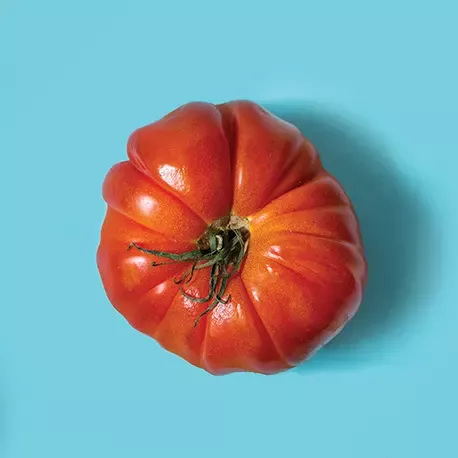 ones, e.g., buffalo heart tomatoes, raspberry tomatoes. These are varieties with fine flesh and low seed content. They are excellent raw, for sandwiches, salads and as an addition to soups and sauces. Many of them have a delicate, parchment-like skin which makes them a favourite with children.
NUTRITIONAL VALUE
Nutritional value per 100g of tomatoes:
Tomato FOR YOUR HEALTH!
Beneficial for the cardiovascular system
They have been shown to lower levels of bad (LDL) cholesterol in the blood, and may therefore be beneficial in the dietary prevention of atherosclerosis and other cardiovascular diseases. The potassium contained in them helps regulate blood pressure levels, which is important in combating hypertension.
For a shapely figure
Tomatoes are low in calories, which is why they are such a good choice for anyone trying to lose weight. The high water content means that they fill the stomach, giving you the sensation of satiety without providing a lot of kilocalories.
For beautiful skin
The vitamin C contained in tomatoes stimulates the cells to synthesise collagen, a protein that gives it elasticity, vitality and a youthful appearance. The beta carotene present in them helps fight free radicals, including those produced by UV radiation, which accelerate the ageing process.
Against anaemia
The iron needed to build blood cells is absorbed much better in an acidic environment. Due to the ascorbic acid content (vitamin C), tomatoes will improve the absorption of iron.
PRODUCTION MAP
Tomato production in Poland is carried out in field crops and under covers. About 70% of the area of ground tomato plantations is located in four voivodships: Wielkopolskie, Kujawsko-Pomorskie, Mazowieckie and Lubelskie. The largest greenhouses are located, among others, in Karczew (Mazowieckie Voivodeship), Siechnice near Wrocław and in Bogatynia.